Shopping Basket
Your Basket is Empty
There was an error with PayPal
Click here to try again
Thank you for your business!
You should receive an order confirmation from Paypal shortly.
Exit Shopping Basket
| | |
| --- | --- |
| Posted on 18 October, 2016 at 21:20 | |
Setting up a sports team is not an easy business, setting up an American Football club even less so, make that a youth based organisation and the hoops and hurdles you need to climb through and over multiply exponentially.
When a determined number of coaches and parents got together to map out the future progress of a group of young people who had already shown great commitment and development, but who needed more focus and support, it became clear just how difficult this would be. Add to the mix that the new organisation would need to start from scratch with nothing but aspiration, drive and commitment the fledgling Kent Phoenix looked stuck well and truly in the ashes.
However thanks to a huge amount of work from the coaches, parents and staff in a very short space of time things started coming together and the Kent Phoenix began to take flight and now we find ourselves soaring into a very bright future.
An American Football club, by nature of the sport, needs a great deal. Large numbers of coaches, players and support staff. Kit and equipment to teach basic and advanced skills as well as provide safety for participation; a social media footprint to promote, develop and grow not to mention uniforms for the players to wear with pride. This stuff does not come cheap, so how did we manage in such a short space of time to get ourselves into such a good position from which to build?
Thanks to the generosity of a number of individuals, companies and organisations the Phoenix found themselves in receipt of nearly £5000 paid to the club as donations and sponsorship, we also received a further £1200 paid through the course of the year to help with the cost of using training facilities. These donations were very welcome and everyone connected with the Phoenix are very grateful for the support.
We were also very fortunate that a parent very kindly loaned us the money to purchase all the players uniforms we need to get ourselves going, this money will be repaid from member subscriptions but allows our players to look fantastic and really feel a part of their club. With the players looking fantastic we approached KCC Councillors Brian Clark and Paul Carter who kindly agreed to award the Phoenix £300 each in order for us to purchase uniforms for our coaching staff, this money was provided through the KCC Members Grant award scheme and we are hugely grateful to them for their support. All our uniforms have been sourced and supplied by EV2 and look fantastic, we will certainly present a strong team identity moving forward.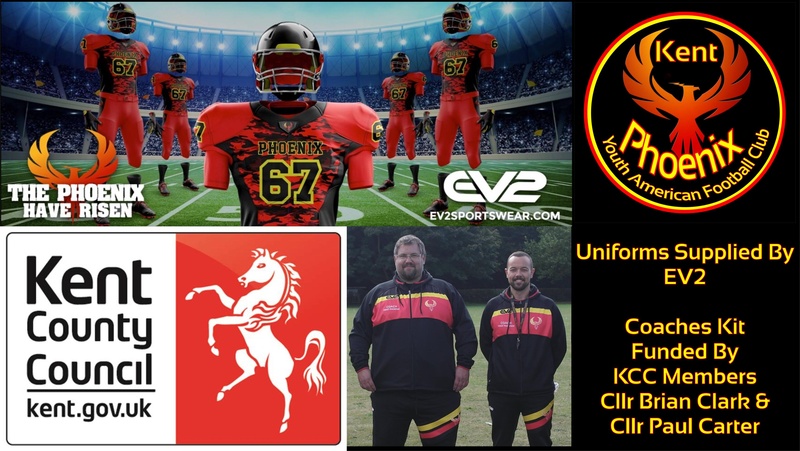 Following a chance encounter we were invited to meet with the owner of Lashings Sports Bar, we had a really positive discussion regarding our plans and ambitions and Lashings agreed to sponsor the Phoenix to the tune of £2500 across our first year. This money will help us to fund our continued development and we look forward to developing a range of American Football based events at Lashings to reflect the partnership between us. We look forward also to seeing our shirts on their walls and pictures of our kids on their tables.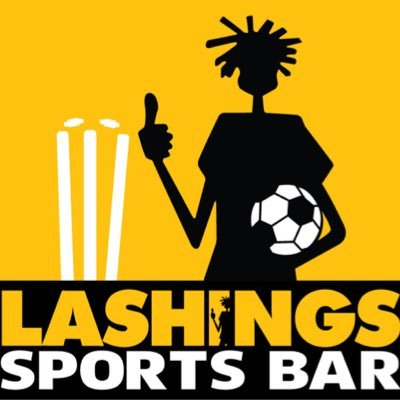 Our First Event In Association With Lashings Sports Bar Will Be

With the money we have raised so far we have been able to cover the set up costs for our organisation and still maintain member subscriptions at an affordable level in order to ensure everyone is able to be a part of our program. We have set up our website, social media and a YouTube channel and we are starting to use these outlets to promote our teams. We have also secured great facilities at Cornwallis Academy and are looking at how we can work closely with them in the future to develop both the facilities we use and find ways we can tie this into the school and it's pupils. We have looked into club development and will be working closely with Kent Sport and Sport England to attain Clubmark accreditation which recognises our commitment to working with children in a safe and well organised manner..
Most importantly however the money we have been able to raise ensured we could purchase 23 sets of pads and helmets for our U17 Kitted team as well as Flag Equipment for our U14 and U11 teams, this will enable us to deliver a full range of training and development as we work towards future competitive tournaments and BAFA National League competitions. We have registered our teams with BAFA and look forward to entering an Under 17 team into the National League competition in 2017. For our Flag teams we have already hosted one event in association with South East Youth American Football and look forward to working with them and other local Teams to provide plenty of competitive events in the future. Work has started to look at the development of an U19 Junior team in the future in the mean time we will look to work with local teams to provide opportunities for Phoenix players who may fall into this age group in 2017 to make sure everyone involved has the opportunity to develop and play the sport.
When we started training a few weeks ago we had little more than a couple of balls and a few training ladders and cones, but thanks to the generosity and support of a lot of people, not to mention the hard work of the entire Phoenix staff we have already put ourselves into a strong position from which we can continue to build. We have done it by ourselves, for our kids and are enormously proud of the organisation we are building.
If you are able to or wish to help us in the future through donations or sponsorship, please contact us [email protected]
Categories: None
/