Setting up a sports team is not an easy business, setting up an American Football club even less so, make that a youth based organisation and the hoops and hurdles you need to climb through and over multiply exponentially.
When a determined number of coaches and parents got together to map out the future progress of a group of young people who had already shown great commitment and development, but who needed more focus and support, it became clear just how difficult this would be. Add to the mix that the new organisation would need to start from scratch with nothing but aspiration, drive and commitment the fledgling Kent Phoenix looked stuck well and truly in the ashes.
However thanks to a huge amount of work from the coaches, parents and staff in a very short space of time things started coming together and the Kent Phoenix began to take flight and now we find ourselves soaring into a very bright future.
An American Football club, by nature of the sport, needs a great deal. Large numbers of coaches, players and support staff. Kit and equipment to teach basic and advanced skills as well as provide safety for participation; a social media footprint to promote, develop and grow not to mention uniforms for the players to wear with pride. This stuff does not come cheap, so how did we manage in such a short space of time to get ourselves into such a good position from which to build?
Thanks to the generosity of a number of individuals, companies and organisations the Phoenix found themselves in receipt of nearly £5000 paid to the club as donations and sponsorship, we also received a further £1200 paid through the course of the year to help with the cost of using training facilities. These donations were very welcome and everyone connected with the Phoenix are very grateful for the support.
We were also very fortunate that a parent very kindly loaned us the money to purchase all the players uniforms we need to get ourselves going, this money will be repaid from member subscriptions but allows our players to look fantastic and really feel a part of their club. With the players looking fantastic we approached KCC Councillors Brian Clark and Paul Carter who kindly agreed to award the Phoenix £300 each in order for us to purchase uniforms for our coaching staff, this money was provided through the KCC Members Grant award scheme and we are hugely grateful to them for their support. All our uniforms have been sourced and supplied by EV2 and look fantastic, we will certainly present a strong team identity moving forward.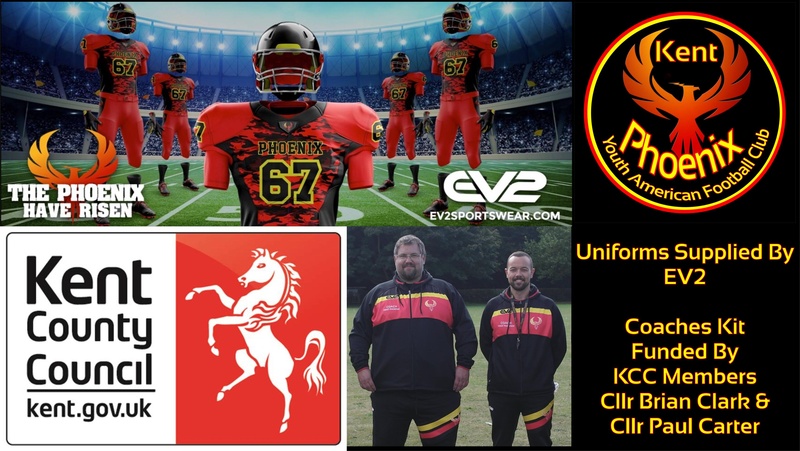 Following a chance encounter we were invited to meet with the owner of Lashings Sports Bar, we had a really positive discussion regarding our plans and ambitions and Lashings agreed to sponsor the Phoenix to the tune of £2500 across our first year. This money will help us to fund our continued development and we look forward to developing a range of American Football based events at Lashings to reflect the partnership between us. We look forward also to seeing our shirts on their walls and pictures of our kids on their tables.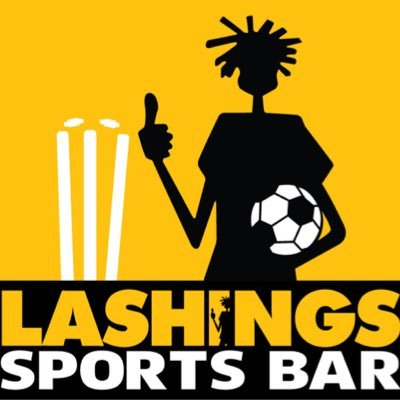 Our First Event In Association With Lashings Sports Bar Will Be

With the money we have raised so far we have been able to cover the set up costs for our organisation and still maintain member subscriptions at an affordable level in order to ensure everyone is able to be a part of our program. We have set up our website, social media and a YouTube channel and we are starting to use these outlets to promote our teams. We have also secured great facilities at Cornwallis Academy and are looking at how we can work closely with them in the future to develop both the facilities we use and find ways we can tie this into the school and it's pupils. We have looked into club development and will be working closely with Kent Sport and Sport England to attain Clubmark accreditation which recognises our commitment to working with children in a safe and well organised manner..
Most importantly however the money we have been able to raise ensured we could purchase 23 sets of pads and helmets for our U17 Kitted team as well as Flag Equipment for our U14 and U11 teams, this will enable us to deliver a full range of training and development as we work towards future competitive tournaments and BAFA National League competitions. We have registered our teams with BAFA and look forward to entering an Under 17 team into the National League competition in 2017. For our Flag teams we have already hosted one event in association with South East Youth American Football and look forward to working with them and other local Teams to provide plenty of competitive events in the future. Work has started to look at the development of an U19 Junior team in the future in the mean time we will look to work with local teams to provide opportunities for Phoenix players who may fall into this age group in 2017 to make sure everyone involved has the opportunity to develop and play the sport.
When we started training a few weeks ago we had little more than a couple of balls and a few training ladders and cones, but thanks to the generosity and support of a lot of people, not to mention the hard work of the entire Phoenix staff we have already put ourselves into a strong position from which we can continue to build. We have done it by ourselves, for our kids and are enormously proud of the organisation we are building.
If you are able to or wish to help us in the future through donations or sponsorship, please contact us [email protected]
As touched upon previously I first got involved in the sport in the late 80's interest was high but access to involvement was a challenge, teams came and went popping up and disappearing as seasons came and went. I remember once heading off on holiday with my parents and stopping off somewhere on the South coast for lunch, it was a small pub but overlooked a sports centre and as I ate I watched seemingly hundreds of men in full battledress doing jumping jacks and counting at the top of their lungs, it happened to be the Brighton B52's training session. I had never seen such coordinated and well drilled practices in any sport I had been involved with. My football training usually consisted of me standing in goal while every other member of the team took great delight shooting at me from point blank range, you had to make sure you saved everything as with no goal nets walking to get the ball if you conceded one was a feat in itself! So my joy a few years later at finding a team on my doorstep, well a half hour bike ride, was fantastic. But this enthusiasm was tempered by the realism that the sport while popular was just not set up to support development and growth. Access to equipment depended on who was at training and what kit was left by former players or brought by a willing sponsor. The cost of being involved was high and time commitment to travel and play really ate into a weekend.
Fast forward 30 years and the sport is very different in the opportunities it provides. Some things still remain the same, clubs face constant challenges to keep themselves going, cost and time commitments remain higher than many other sports and the league structure is still a work in progress but there has been over the past few years a steady and consistent development of youth participation and opportunity.
Access to kit and equipment has never been better with a number of really good suppliers providing access to equipment I could only have dreamed of as a young players, coaching courses and training has never offered such a good opportunity for those who wish to teach and develop skills. It is perhaps this drive to improve coaches, coaching knowledge and most importantly delivery that is creating greater opportunities for young people to get involved in our sport than ever before. A young person wanting to get involved can do so now knowing that the coaches are able to get them playing to the best of their abilities with the best possible access to equipment that that organisation can provide. Any player now can reach the highest possible standards they wish whether that is local, regional, national and international, they can also focus on their preferred discipline with both Flag and Kitted football being played to the highest level through the age (and now gender) levels. It is only a matter of time before Schools, Colleges and even the NFL itself start paying more attention to a hither to untapped region of potential players and even coaches, to get involved in American Football now is not just a means to keep busy or partake in a hobby, today those getting involved from an early age can find themselves on a path to whatever destination they set themselves, O provides opportunity and today there are more opportunities through American Football than could have ever been imagined.
I first got excited by American Football in 1984, turning on the TV and seeing the Raiders play the Dolphins engage in a battle of human chess, I didn't know what was going on but I knew I had never seen anything like it before. Little wonder then that I grew up and remain a Chicago Bears fan! The sport hooked me straight away and even though all I had was a hours weekly fix on Channel 4 (God Bless 'em) it didn't take long to start to pick up the basics of the game and some of the more intricate rules.
For the next few years I would count down the days til Sunday and my next fix of a sport that was exploding in popularity, mini football games would pop up on the school playground and I wore my way through countless pairs of trousers diving to make catches similar to those I ad see my heroes of the day making. Nothing was organised, no one had a clue but we knew we were having fun. A few years later I discovered that there was a local team, The Gravesend Lions undeterred that I was nothing more than a skinny 15 year old I turned up each week to train alongside grown men, child protection was different then so spending my Sunday mornings getting mashed was the norm and I LOVED IT! Coaching boiled down to someone yelling comments they had heard on TV or read in a handful of guides available, it was a simpler time though my first playbook was 40 pages! By the time I turned 18 the sports popularity was declining and I found myself too busy with life and work to remain committed, I had stopped watching regularly as the sport moved to sky and my involvement in the sport seemed to have come to an end.
Fast forward a dozen or so years (*cough* - editor), okay fifteen (*cough cough* - editor), alright 25 but that's not the point! The sport is booming again and has reached places few of us all those years could have imagined, regular NFL games, potential for a UK based franchise and more people watching, supporting and interested in the sport than ever. I got back involved a few years back and after coaching adult football made the decision to build from the very ground up and start a youth program, four years ago it was me and few players but my how we have grown, but it has not been easy. The sport comes with a lot of misconceptions and convincing parents that the sport is safe while at the same time explaining to their children why they can't simply put on pads and helmets and start thumping into each other is a tricky balancing act. But when the kids start to play and the parents see that safety and development is at the heart of the program we run it isn't long before they are every bit as hooked on the sport as I was all those years ago.
Look on the internet and you will find a plethora of motivational quotes saying how important it is to win or how easy it is to fail. Success comes through hard work, hard work comes through motivation but what drives motivation? In my experience the best way to motivate and encourage young people to try something they either have no experience of or no confidence that they can do it is to make it FUN! Enjoying what you do makes it much easier to keep on doing it, introducing FUNdamental skills of a new sport is hard work, American Football and Flag Football is far more challenging than any other sport they will have encountered before. You can't just turn up with a handful of kids a ball and jumpers for goalposts, the number of positions, skills required for each and the rules, oh goodness the rules! I used to tell adult players that it would be midway through their second season before they started to feel like they knew what was going on and started to get confidence in their role! Imagine explaining that to a parent or child, 'yes Mrs Mother your little Johnny can play American Football but he won't have any idea what is going on for 18 months but he needs to turn up and train every week'! Kids have the attention span of a bored goldfish at the best of times so how can you make sure they keep coming back? Again the answer is simple, make training session FUN, keep the player smiling and enjoying what he is doing, let them see their development and improvement and they will stay motivated enough to keep coming back. Winning is something to aspire to, success is great but seeing a group of young people smiling , laughing and working hard to improve themselves tops anything else you can achieve in sport because that attitude feeds through the coaches to the players and parents and if you have their support there is no limit to what can be achieved.
THE PHOENIX HAVE RISEN
Welcome to the home of the Kent Phoenix, the South East's first Youth dedicated American Football Club. we aim to offer continued opportunities for young people aged 8-18 to get involved in our sport.
We currently run teams in 3 age categories, Under 11 Flag Football, Under 14 Flag Football and Under 17 5v5 Kitted Football. We have a dedicated staff who work hard to ensure our players receive the best possible opportunity to learn the skills and abilities required to play American Football. Supported by a strong off field support network we will be focusing our efforts to develop a club and program that sees young people excel and progress regionally, nationally and who knows maybe even into the US!
Working with the British American Football Association and South East Youth American Football we will provide our players the opportunities to compete in local, regional and national competitions.
Development is our priority and we have some exciting plans in the pipeline that will see us continue to improve our club and offer our members the best possible coaching, facilities and equipment. We look forward to sharing our plans with you in the future.
, if you are interested in getting involved please get in touch.
Please find us on social media and help us to grow and develop by sharing our links and information.
To help get us off the ground we are delighted today to reveal the kit we will be wearing for the 2017 season. To get a peek at this you will need to visit our YouTube Channel or Twitter and watch the video.
There is so much more to come, we have risen and will continue to work hard to ensure the Phoenix are able to soar and challenge, why not challenge yourself and try something new.
/